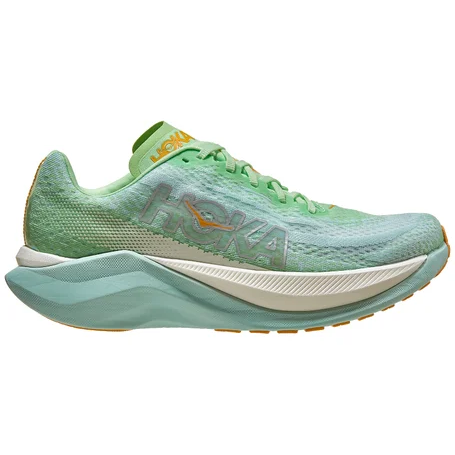 The fast just got faster with the HOKA Mach X, a supercharged version of the highly popular HOKA Mach series. With the introduction of PEBA foam and a Pebax plate in the midsole, the Mach X serves as a lightweight performance trainer that easily doubles as a race day option.
The HOKA Mach X takes the already speedy Mach series to a new level with its innovative dual-layer midsole. This upgraded design features a highly responsive PEBA foam atop a protective layer of CMEVA foam, resulting in over 40mm of cushioning in the heel. This combination of foams provides an exceptional experience by offering both plushness and responsiveness.
Enhancing the shoe's performance further is the inclusion of a propulsive Pebax plate nestled between the two layers of foam. This plate adds an extra element of snappiness to the ride, facilitating fast and efficient leg turnover. Whether it's speed days or race days, the HOKA Mach X proves to be an ideal choice.
In the outsole, the HOKA Mach X is equipped with Durabrasion rubber that strikes a wonderful balance between being durable enough to rack up the miles on top of staying lightweight enough to keep you moving at top speeds.
Staying in line with the theme of being a shoe tuned for training and ready for race day is the lightweight engineered jacquard mesh upper that offers a supremely comfortable and secure fit, in addition to being lightweight and durable. Whether it's a speed workout or race day, the HOKA Mach X is ready to help you have your best run.
What You'll Love
Max cushioning yet fast

Race-day tech in a more durable package
Versatile for both training and racing
RFWHO1141451-LGSO
Recently Viewed