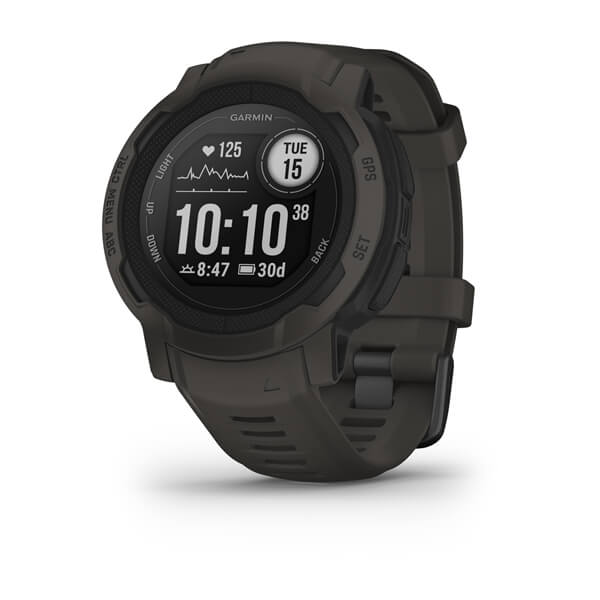 With a newly improved, more rugged exterior and updated feature-rich interface, the Garmin Instinct 2 GPS Watch is the ideal companion for ultra-runners and mountain conquerors. Tested to meet military standards, the Instinct 2 is thermal, shock, and water-resistant up to 100 meters, and is more than capable of handling whatever runners can throw at it.
Along with improved materials, the Instinct 2 can now be easily configured from the convenience of your phone through the Garmin Connect App, and, in addition, the Connect IQ feature gives runners the ability to effortlessly download data sets, apps, and more from their device. Furthermore, runners will not need to rummage around to find their phone mid-adventure as Instinct 2 allows runners to receive all their alerts from the convenience of their watch.
The watch's 3-axis compass, barometric altimeter, and multiple satellite options continue to work harmoniously together to provide runners with highly accurate tracking, while newly improved metrics and analytics function with Garmin Elevate™ technology to give runners all the data they need to maximize their training efforts. On the watch's monochrome high-contrast display, runners can personalize and customize every section of the display layout to see only the relevant information, and even create shortcuts to their most-used data sets. Finally, ultrarunners no longer need to fear running out of battery while wearing the Instinct 2 as the new Power manager mode helps extend the watch's already impressive battery life.
Includes:
Instinct 2 GPS Watch
USB download/charge cable
Documentation
New Features
Increased battery life with enhanced resolution 
Upgraded  Garmin Elevate Gen4 Optical HR Sensor
Improved, more rugged materials with a monochrome high-contrast display 
Garmin Connect App allows you to easily configure your device from your phone
Easily download data fields, apps, and more with Connect IQ integration
Added PulseOx, Fitness Age, MTB Grit and Flow, and VO2Max tracking
Preloaded activity profiles with updated metrics and analytics for smarter, higher quality training
Garmin Pay offers contactless payment options 
Receive texts, emails, and alerts from the convenience of your watch
Power manager helps extend battery life for less time spent charging and more time spent running
Compatible with Surfline conditions and Surfline sessions  with new Windsurfing and Kiteboarding activity profiles
Bold new colors for a personalized touch
Added Kill Switch feature can wipe the device of all user memory
Features
Military standard 810G for thermal, shock, and water resistance (100 m)
GPS, GLONASS, and Galileo satellites work together for high accuracy in most conditions
AutoClimb automatically displays ascent and descent
Monitor your stress, activity, and heart rate with preloaded activity profiles
Displays current weather, weather forecast, and storm alerts
Customizable "hotkeys" let you create info display shortcuts
Customizable displays: every section on the display can be changed
Connects to Garmin inReach devices
Ultra-rugged GPS watch with HRM and unique display
ABC (altimeter, barometer, and compass)
Downloadable courses use navigation and a magnetic compass
Includes Elevate™ wrist heart rate technology for continuous heart rate monitoring
Activity Tracking counts steps, calories, distance, and sleep quality
Accelerometer tracks speed and distance indoors (treadmill or track)
Running data lets you measure time, distance, pace, calories, speed, and laps
Virtual Racer™ feature allows you to compete against previous PR's on a course, or anyone's PR loaded onto Garmin Connect™
Virtual Partner® lets you train against a digital person or a previous workout
Virtual Pacer™ compares current pace to target pace
Automatic lap, scroll, pause, and climb
Training Effect measures the aerobic effect of exercise
Store personal bests for running, cycling, and swimming
Time/distance alerts can be used for interval training
TracBack® feature reverses the track log to navigate back to your starting point
Displays sunset and sunrise times
Swimming metrics like distance, pace, stroke count/rate, and calories
Stroke recognition tracks different stroke styles
Supports open water swimming for oceans and lakes
Pair with a smartphone via Bluetooth® for smart notifications, music control find my phone features, and VIRB® remote
Supports ANT+® devices for cycling to show speed and cadence
Cycling metrics such as time and distance
Supports coordinate-based navigation
Easily detached wristband for quick interchangeability
Audible or vibration alerts for pace, time, distance, and more
Thermometer shows the current temperature
Battery Modes
Smartwatch: 28 days
GPS: 30 hours
Max Battery GPS Mode: 70 hours
Expedition GPS Mode: 32 days
Battery Saver Watch Mode: 65 days
Tech Specs
40 x 40 x 13.3 mm




Fits wrists with a circumference of 112-180 mm

custom, two-window design; 0.79" x 0.79" (20.12 x 20.12 mm)

Rechargeable lithium-ion battery
Water-resistant up to 100 meters
Storage: 16 MB
Materials
Case: Fiber-reinforced polymer
Bezel: Fiber-reinforced polymer
Strap: Silicone band
Lens: Power Glass™
Recently Viewed